The Rifle-Stocks Difference
Feedback from our customers

Straight Line Thumbhole, Imperial Laminate, 1/2" Pad, Ruger 10/22(17)
Ted K. of Glenwood Springs, CO.

Marksman Style, Desert Sunset, 1/2" Pad, Ruger 10/22 with Volquartsen barrel & Sightron 6-24x40 scope.
Built by Mike C. of Bassett, VA.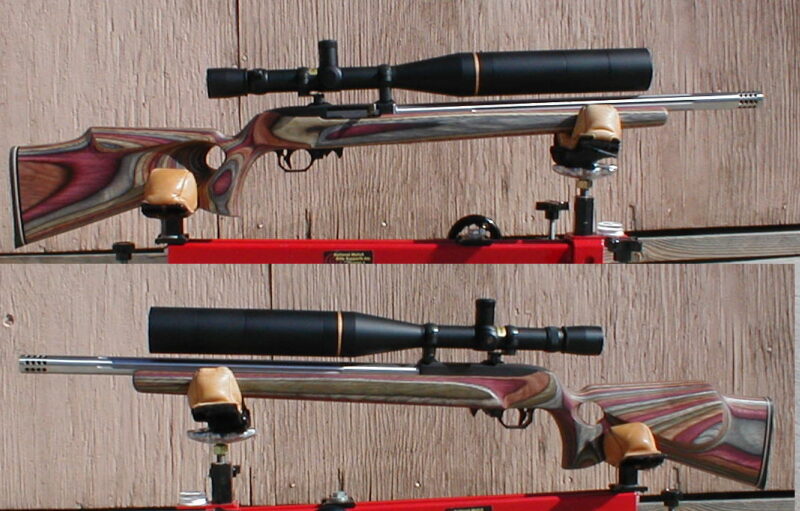 Dual Grip Thumbhole, 2-1/4" Varmint Forearm, Laminate, No Tip & Cap, 1/2" Pad Field Pad. Ruger 10/17HMR using Ruger Receiver, Volquartsen SS/Fluted Barrel & Leupold 6.5-20x50 LRT Scope
Submitted by Ted K. of Glenwood Springs, CO.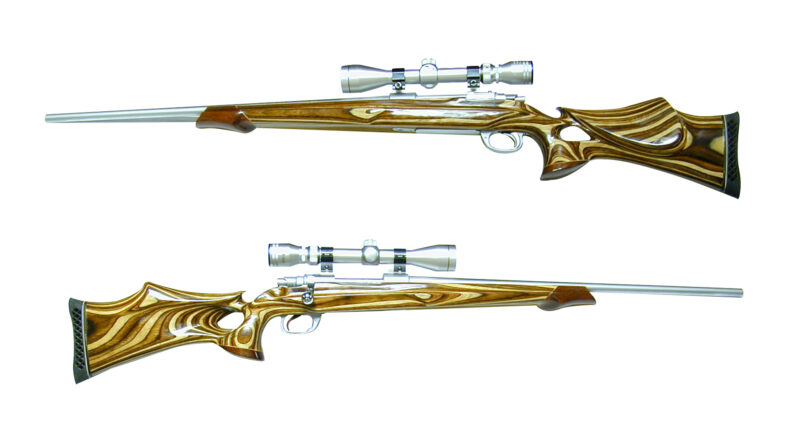 Wildcat Thumbhole Style, Tigerwood Laminate, 1" Flared Pad for Savage 110.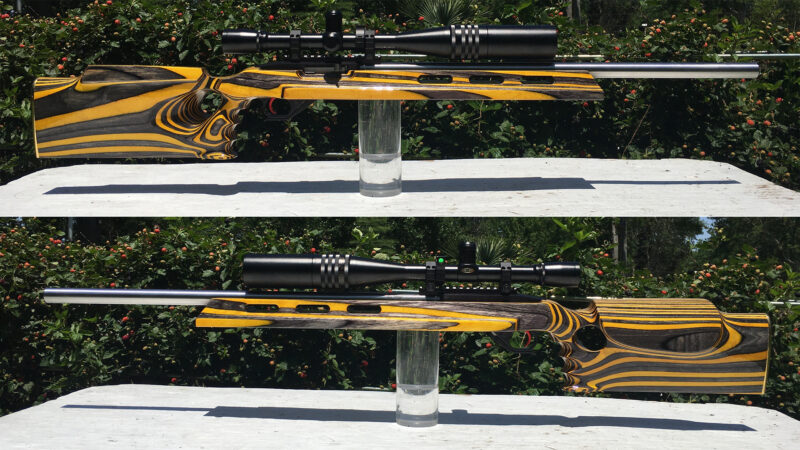 Thumbhole Cheekpiece Benchrest in Yellow Jacket Laminate Ruger 10/22 Action *Customer designed grip area.
Submitted by Damon S. of Houma, LA.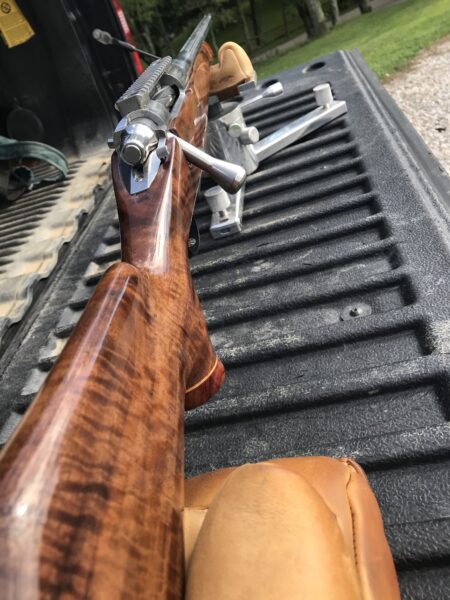 Monte Carlo Style in Exhibition Grade Claro Walnut Remington 700 Action
Submitted by Kevin W. of Ravenswood, WV.

Just completed work on one of your stocks and wanted to pass along my thanks for providing such a nice product. Overall quite a satisfactory stock, especially when considering your reasonable price.
Old Classic #102 in Exhibition Grade English Mauser 98 Action
Submitted by Thomas B. of Purcellville, VA.

#102 Old Classic in Exhibition Grade Bastogne Remington 700 Action Ebony Tip and Cap
Submitted by Scott H. Fort Myers, FL
Received the stock last week and can't say enough about the quality of the product. The fit is absolutely as advertised. Many thanks for producing a wonderful product.
Mark B. Ashland, OH.
The Pre-War M-70 stock arrived today. I'm very pleased with the stock shape and the figure in the buttstock. It's more than I actually expected.
Thomas D. Cody, WY